Housing Forecast For 2012
November 17, 2011
---
Housing Forecast Points to Market Stability in 2012
BC Multiple Listing Service® (MLS®) residential sales are forecast to rise 3.2 per cent from 74,640 units in 2010 to 77,000 units this year, increasing a further 3.9 per cent to 80,000 units in 2012.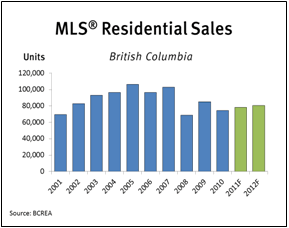 "Low mortgage interest rates are expected to persist through 2012 keeping affordability on an even keel," said Cameron Muir, BCREA Chief Economist. "However, headwinds on the economic front will constrain consumer demand over the next year to below the ten-year average of 87,600 units." A record 106,300 MLS® residential sales were recorded in 2005.
You can view homes for sale info on the MLS system in Greatger Vancouver, Fraser Valley and Chilliwack using the link here.
"Moderate consumer demand combined with larger inventories of homes for sale means BC housing markets will experience little upward pressure on home prices through 2012," accofding to Cameron Muir, BCREA Chief Economist.
---