BCREA 2012 1st Quarter houusing forecast
February 9, 2012
---
Average performance for housing market in 2012
British Columbia Real Estate Association (BCREA) recently released its 2012 First Quarter Housing Forecast Update.
"Modest economic growth at home and abroad is expected to limit growth in consumer demand both this year and in 2013," said Cameron Muir, BCREA Chief Economist.
BC Multiple Listing Service® (MLS®) residential sales are forecast to increase 2.1 per cent from 76,817 units in 2011 to 78,400 units this year, increasing a further 2.7 per cent to 80,500 units in 2013. The 15-year average is 79,000 unit sales. A record 106,310 MLS® residential sales were recorded in 2005.
Will housing affordability affecting the forecast?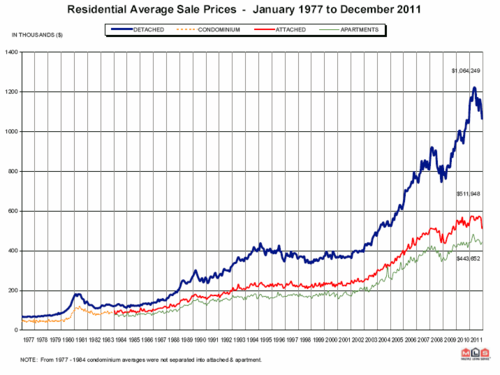 Based on the average 10 years sales figure around 85,000 units, 2012 and 2013 forecasts by BCREA are below the 10 years average sales. But, if the more recent declining trend line from 2005 is plotted against sales the past 6 years, sales for 2012 coulld end up to be around 72,000 units.
2005 was a significant year for home Greater Vancouver home topping, while detached home prices made gains every year except 2008 (as a result of the crdit crunch).
Housing affordability will also shift housing sales from detached houses to lower priced condos and townhouses. The suburbs could benefit from increased sales as homes are priced much lower than the major city centers close to Vancouver.
The recent bank tightening on equity financing on Line of Credit, review of equity mortgage lending to home buyers and New Immigrants could curtail home sales for 2012. If home sales in Greater Vancouver drop 10% from 2011 levle, we could end up with sale at around 69,100 units for 2012. It's anybody's guess as there are much uncertainties in the housing market.

---