CMHC 2012 Home Sales Forecast
December 2, 2011
---
CMHC: Expect more of the same in 2012
BC has experienced balanced housing market conditions for over a year, and can expect to see more of the same in 2012, according to CMHC's BC regional economist Carol Frketich and senior market analyst Robyn Adamache. Frketich and Adamache spoke at the CMHC Housing Outlook Conference in Vancouver, November 16.

One of the interesting things right now, Frketich said, is that we've continued to see price increases despite the fact we're in a balanced market. In terms of market shifts, however, there's usually a five to seven month lag time before prices change.

According to CMHC, BC home sales are forecast to hit 77,200 in 2011 and 81,900 in 2012, with BC housing starts expected to be 28,500 next year. In our Board area, sales are expected to increase by nine percent from a forecast of 33,000 sales in 2011 to 36,000 sales in 2012. CMHC also expects housing prices to increase next year at the rate of inflation.

Read the report here.
Or, will the market turns out worst than the forecast.
The graph below for Greater Vancouver shows a declining housing market since 2005: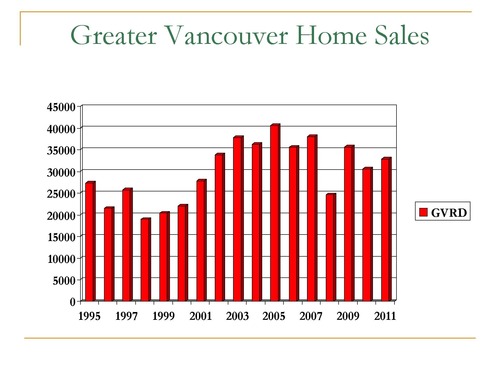 Home prices probably already reach the top and it could be under pressure to go down as current supply of homes are in excess of buyers. View homes for sale in Greater Vancouver, Fraser Valley and Chilliwack.
Since 2005, homes sales on average dropped about 3.5% every year. With the continuation of this same rate of decline, 2012 could end up with a home sales figure around 328,500 units. Market sentiment may turn for the worst resulting in a larger drop in home sales for 2012.

Ultra low interest rate will help to cushion the soft market, but if buyers are holding off to wait and see how the market will turn out in spring, the high expectation for a spring revival in the housing market could be tampered.
The picture will be clearer around the midle of next year to find out if the market can be maintained at last years level, or continue the decline as shown on the graph above.
---