Forecasting Home Sales For 2012
November 27, 2011
---
Home Sales Forecast For 2012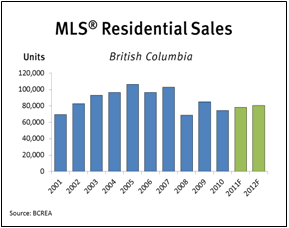 BC Multiple Listing Service® (MLS®) residential sales are forecast to rise 3.2 per cent from 74,640 units in 2010 to 77,000 units this year, increasing a further 3.9 per cent to 80,000 units in 2012.
"Low mortgage interest rates are expected to persist through 2012 keeping affordability on an even keel," said Cameron Muir, BCREA Chief Economist. "However, headwinds on the economic front will constrain consumer demand over the next year to below the ten-year average of 87,600 units." A record 106,300 MLS® residential sales were recorded in 2005. Read the full report here.
Will home sales turn out as forecast?
The Greater Vancouver home sales from 2001 to 2011 showed a shift in the sales ratio for condos to townhomes as more condos were built and sold during the past 6 years. An analysis on condo sales in Richmond showed that the condo market is the most vulnerable and the weakest link in the real estate market.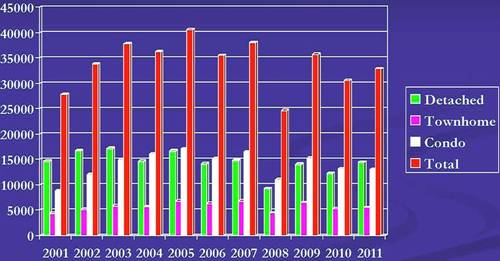 The above 2 charts are showing home sales declining since 2005. Instead of a slight increase in home sales for 2012 as predicted, the housing market for Greater Vancouver could contract resulting in home sales dropping another 5% to 10% (29,600 to 31,200 units) in 2012.
Low mortgage rates help to boost home sales
Home buyers who are enjoying low mortgage rates now will eventually have to face higher rates sometime in the future. For now the housingn market is a buyer market. Whether sales will pick up in spring next year to soak up the excess supply is hard to say.
The dynamics of supply and demand for homes will play out in the market. We will know by March, 2012 which way the market is heading.
---