Greater Vancouver Home Prices Since 2007
December 27, 2011
---
The price chart below for Greater Vancouver helped to sum up the home price movement before and after the credit crunch of 2008. The crash in the financial markets resulted in Greater Vancouver's detached home prices dropping 26%, while townhomes and condos dropped 20% and 13% respectively. View homes for sale in Greater Vacouver.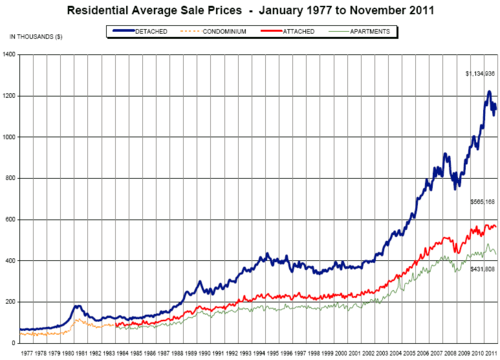 The housing market rebounced after the crash
Within a year, all the losses in housing prices in Greater Vancouver were regained. Home prices advanced further through 2010 and early part of 2011. The supply of new listings since the beginning of 2011 helped to soak up the demand from home buyers.
By late April, 2011 home buyers frenzy started to subside and the market for townhouses and condos slowed considerably. The build up in inventory started to affect the market and helped the market turn from a seller market in early 2011 to a seller market by August, 2011. View homes for sale in Greater Vacouver.
There were some erosion in home prices resulting in a slight price decline in prices for condos and detached homes. Townhome prices were able to hold on without giving up it's gains in early spring of 2011. From the lows in 2008, home prices still managed to make substantial gains. At the end of November, 2011Condo prices were up 19%, townhouses up 34% and detached houses up 52%.
Projected Home prices for 2011
Home buyers are watching the market closely. Less new listings coming onto the market and the expiry of many listings help to bring the supply and demand of homes to a more balanced market. However, the supply of new condos and townhomes from new developments could put pressure on these 2 markets.
Detached homes are holding on to it's gain. Most economists are in agreement that 2012 will be moderate with further easing in home prices. However, the decline in prices will be moderate. The ultra low interest rates in Canada will keep the housing market at its current pace.
The spring market will help to shape the market for the rest of 2011. A strong market will help to keep home buyers and sellers busy. If the market fails to ignite home buyers interest, the downside risk for bigger price decline may be expected.
---