Blog › join team 3000
June 3, 2015
---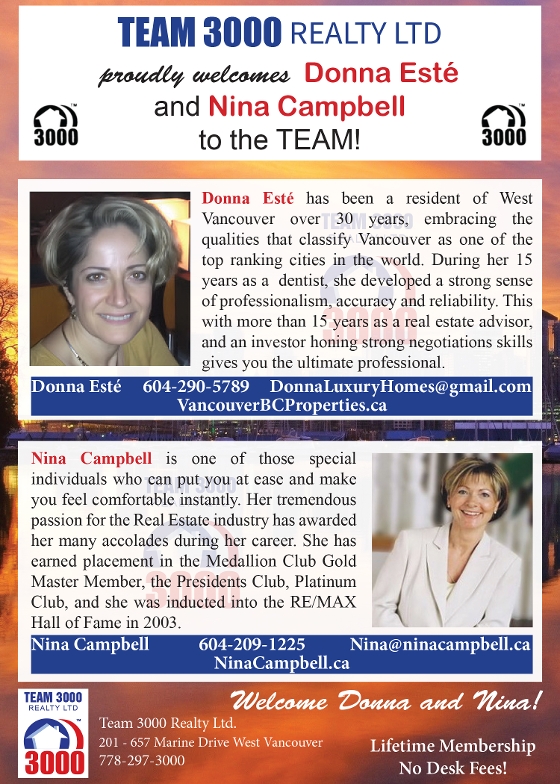 ---
March 30, 2015
---
We at Team 3000 Realty Ltd had the honour of awarding our top achievers at our first annual Red Carpet Awards Dinner this past Friday.
The awards were:
Achievement Award
"In grateful appreciation for your ambition and perseverance in 2014
Your dedication has not gone unnoticed"
Alex Almeida
Urszula Prondzinski
Joyce Wong


President's Award
"Exemplary Sales Performance in 2014"
Dave Liu
Asad Syed
Belinda Pan
Kenneth Dixon
Debby Yao
Annette Denk
Bob Shadbakht
Hassan Tabanfar


Gold Award
"Outstanding Sales Performance in 2014"
Joyce Hubenig
Jordan Hurdal
Ben Ng
Sheron Hsiang


Platinum Award
"Excellent sales performance in 2014"
Charles Shapiro
Robert Alexander

It's an honour to support such outstanding professionals.
Check back later in the week for some fun pictures of the evening!

---
July 29, 2011
---
What Team 3000 can offer you?

We can help you develope your own unique online marketing strategy... to get more contacts, referrals and sales.
I have the resources and tools that help you control your expenses and costs.

I have the most advanced online MLS search for Greater Vancouver and Fraser Valley.

We provide you qualified leads for home sellers and buyers.
Save Mony - Instant Benefit to you!
You have the option to join us as a "life-time" team member... or pay as you go. Our life-time option allows you to save from $2,000 to $6,000 a year on admin/desk/tech/franchise fees.
You pay a small one time fee to become a life-time member - no more monthly fees to pay (admin, desk, tech, franchise) for as long as you remain with Team 3000.
We dominate the internet!

I have the most advanced and easy to use websites. Check out some of our websites here, here and here. Our leads generation and customer loyalty program bring qualified Home buyers and sellers to us. As a sales associate and memebr of Team 3000, you benefit working on these leads... more sales opportunities for you!
Like to have a chat, call us at 778-297-3000
---