Outlook For Greater Vancouver Housing Market
September 11, 2011
---
Vancouver Housing Market - August Report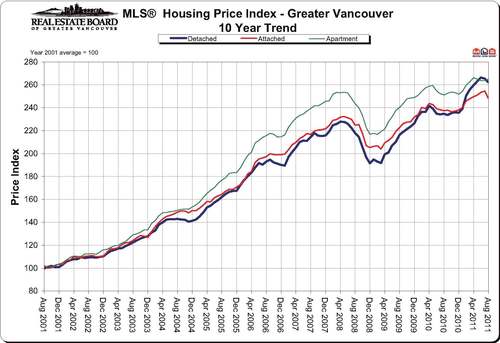 August marked the third consecutive month that home sale activity in Greater Vancouver was below the 10-year average for the month. In contrast, home listings exceeded the 10-year norm every month since the beginning of the year.
New listings for detached, attached and apartment properties in Greater Vancouver totalled 4,685 in August. This represents a 24.9 per cent increase compared to August 2010 when 3,750 properties were listed for sale.
Total listings for sale on the MLS® for August was at 15,437.
"MLS® statistics continue to indicate that we're in a balanced market," Rosario Setticasi, REBGV president said. With a sales-to-actives listings ratio of 15 per cent, or around 6.67 months supply of homes, Greater Vancouver is in a buyers' market the past three months.
The MLSLink® Housing Price Index (HPI) benchmark price for all residential properties in Greater Vancouver at $625,578 in August 2011 was 8.5 per cent higher than the benchmark price of $576,597 recorded in August 2010.
"Year over year, prices are up. However, the housing market now is faced with many challenges like weakening economies, high consumer debt load, home ownership reaching 70%, un-affordable housing, etc. Acceleration in price decline in the coming months may be expected. Conods are more vulnerable to a price decline due to higher supply of homes for sale.


---