November 14, 2011
---
Richmond's housing market over the past 3 months had dropped below 300 units - to be more precise the aveage sale was 266 units from August to October, 2011. When compapred to the past 4 years, the weak sale could spell the beginning of a long overdue decline in home prices.
Will home prices drop sharpely?
The Greater Vancouver pricing trend as shown here is showing the housing market already peak, and possibly on the decline due to weakening sales.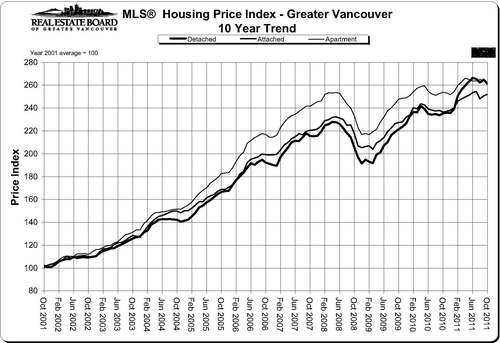 The table below for Richmond's homes sales including detached houses, townhomes and condos showed an alarming drop in sales over the past 3 months.
| | |
| --- | --- |
| Year - Aug to Oct | Average 3 mth Sales (units) |
| 2011 | 266 |
| 2010 | 340 |
| 2009 | 560 |
| 2008 | 233 |
| 2007 | 448 |
In 2008, the market suffered a 15% price decline due to the credit crunch when home prices dropped from April 2008, recovering sharply after February, 2009.
Will home prices drop sharpely or moderately? And, what could happen the next 6 months or 12 months?
The delay in implementing the abolishment of the HST for another 15 months is affecting many new developments. Some housing developers were reported to resort to absorbing the HST completely or partially to sell their homes.
With Richmond's inventory for homes hovering at 8.43 months of supply, many home sellers are already slashing their prices to attract buyers.
Good buying opportunity?
For home buyers, the market is favourable for them to shop and find the homes that's right for them. Definitely, there are a lot more choices, and sellers are willing to negotiate on their selling prices.
My take, home buyers should get ready, and if they right homes come along, they should serously consider making a move. For now, keeping track on the supply and demand situition will help them to monitor the market.
---